5 Myths About Medical Malpractice Claims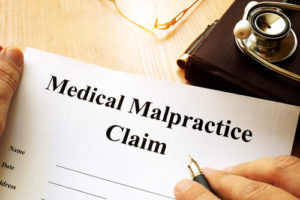 As an experienced medical malpractice lawyer who handles cases in D.C., Virginia, and Maryland, Bertram Law Group hears its fair share of myths about medicine and malpractice claims. We want to be sure that anyone considering filing a medical malpractice claim has the most accurate information.
Here are some of the most common myths and misconceptions about medical malpractice claims:
Medical Malpractice Lawsuits Are Frivolous 

Some patients who have been harmed due to a healthcare provider's mistakes may be afraid of taking legal action because they are afraid their claim may be considered "frivolous." However, this medical malpractice myth is likely spearheaded by disgruntled healthcare providers who do not want to take accountability for their mistakes.

Medical malpractice can result in serious injuries, including traumatic brain injuries, spinal cord injuries, and catastrophic injuries that have long-term effects on the patient's life. Patients are often motivated to file medical malpractice suits against doctors in order to get answers and understand what went wrong. They are rarely driven by money.

The Harvard School for Public Health reviewed nearly 1,500 closed medical malpractice claims and found that more than 90 percent of them involved a physical injury. 80 percent resulted in significant or major disability. 26 percent resulted in death. Researchers found that the vast majority of claims had merit and were not frivolous. Most patients are reluctant to file medical malpractice claims against trusted doctors and only do so when there is overwhelming evidence of negligence that led to death or injury.

Malpractice Claims Drive Up Healthcare Costs 

Another unsupported myth about medical malpractice claims is that they drive up healthcare costs. While healthcare costs have risen over time, this is largely not due to medical malpractice claims.

Part of this myth is the belief that when a patient makes a medical malpractice claim, the doctor's medical malpractice insurance premiums will automatically go up. However, this is not always the case. Often, insurance premiums reflect economic conditions, not settlements or jury verdicts, according to Americans for Insurance Reform. Researchers from the National Bureau of Economic Research found that increases in malpractice payments were not the "driving force behind increases in premiums." Instead, the increased cost is likely due to the insurance company's interest in preserving high profits. The American Association for Justice on Medical Negligence found that the ten largest medical malpractice insurance providers average higher annual profits than 99 percent of all Fortune 500 companies in the United States.

Medical Errors Are Rare 

Perhaps the most dangerous medical malpractice myth is that medical errors are rare. Some experts attribute as many as 98,000 deaths each year to preventable medical errors. Researchers from Johns Hopkins University suggest that medical errors are the third leading cause of death in the United States. Many more medical errors result in serious injuries every year.

Medical Malpractice Lawsuits Are Unaffordable

Medical malpractice lawsuits are complex and can be expensive. However, many medical malpractice lawyers take these cases on a contingency fee basis, meaning that injured patients do not have to pay any attorney fees upfront. The attorney is only paid for their time and efforts if they help to recover compensation on the client's behalf. They receive a percentage of the recovery they obtain.

Doctors Are Fleeing the Practice of Medicine Because of Medical Malpractice Claims

Another myth about medicine is that doctors are fleeing their jobs because of medical malpractice claims. However, this is simply not true. There are currently more than one million doctors in the United States. Additionally, the number of doctors is increasing faster than the rate of the rest of the population, according to the American Association for Justice on Medical Negligence. There are currently twice the number of doctors today as there were a few decades ago.
Find out the Truth When Working with Bertram Law Group 
If a negligent healthcare provider harmed you, Bertram Law Group can help. Our medical malpractice lawyer is a former defense attorney who worked to prevent patient harm and analyzed medical malpractice claims as the Director of Risk Management at Georgetown Hospital. She has an insider's perspective on how the other side will try to defend these cases and what to look for to prove negligence. She uses these invaluable insights to your benefit, crafting aggressive litigation strategies aimed at recovering maximum compensation.
Contact us today to schedule a free, confidential consultation with an experienced medical malpractice attorney who can dispel these common myths.