DC | VA | MD Nursing Home Abuse Attorney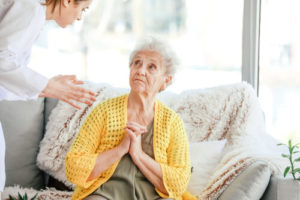 Nursing home abuse attorneys can assist victims and their families receive financial compensation if a senior was harmed by staff members, experiences neglect, or wrongfully dies due to the carelessness of the senior care facility. The elderly residents living in senior care facilities often enter nursing homes when they are no longer able to care for themselves.
That is why the nursing home abuse lawyer at Bertram & Murphy in Washington, D.C. has no tolerance for elder abuse.
Contact our compassionate attorneys today for a free and confidential case review of you or a family member's situation.
What Are the Signs of Nursing Home Abuse?
One of the most difficult decisions we face as an adult is the decision to place our loved one in a nursing home or assisted living facility. Most people assume the facilities are safe and caring places. Unfortunately, that can be untrue and some residents of nursing homes and other health care facilities are victims of neglect and abuse.
Common physical signs of nursing home abuse or neglect include:
Broken bones
Bedsores
Urinary tract infections
Unexplained bruises and scars
Unexplained falls
Unfortunately, it is reported that an estimated 2.1 million seniors are the victims of some form of abuse each year in the United States. Some experts estimate that as many as five times more cases go unreported. Research suggests that abused elders tend to die earlier than seniors who are well cared for, even in the absence of life-threatening and chronic conditions.
Our nursing home abuse lawyers have experience litigating and trying cases involving injuries and even wrongful death of seniors due to neglect and abuse.
What Are the Most Common Types Of Elder Abuse
The most common type of elder abuse is physical abuse or neglect. However, seniors in our community may also suffer from over-medication, emotional abuse, sexual abuse, neglect, and financial exploitation.
Emotional abuse of the elderly may include:
Intimidation through yelling and threats
A withdrawn resident who will not speak
Reports that the resident is trying to leave or wandering off
Isolating the resident from other residents and/or activities
Learn more about what to look for in medical records.
How a Nursing Home Abuse Attorney in Washington, DC Can Help
When you first suspect evidence of nursing home abuse or neglect, you should notify the manager or director immediately. Press for answers and action from the nursing home. Then, contact a nursing home abuse attorney to review your case and they will begin to gather evidence as well.
It is important to get someone into the nursing home to investigate the living condition that your loved one experienced. We will also evaluate the medical records of your loved one. Additionally, our nursing home abuse attorneys will research any past complaints against the nursing home or assisted living facility.
Do not wait to call our experienced and compassionate legal team today. Our Washington, D.C. nursing home abuse attorneys will review your nursing home or elder abuse case for free and help you work towards a solution for your loved one.
If you have any of these concerns please feel free to contact us at 202-335-0185 or email us.