Can You Appeal a Medical Malpractice Verdict?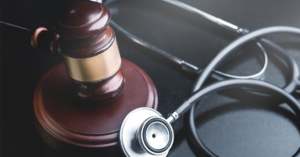 Medical malpractice cases are complex and often hinge on expert witness testimony. This can explain why these cases are appealed more often than most other types of personal injury cases.
If you are worried that you may not win your case, an appeal may be possible. Here is what you need to know about this possibility.
Can I Appeal My Medical Malpractice Verdict?
Many people believe that if they are not satisfied with the verdict reached at the trial level that they can simply appeal the medical malpractice verdict and have it overturned. However, it is important to understand that an appeal is not the same thing as a re-trial. Instead, the court is often tasked with determining if there was some type of error that led to a bad outcome. The appellate court usually does not review new evidence and instead is limited to what is in the official record of the case.
As part of the appeals process, your lawyer may make arguments such as:
The court did not interpret the law correctly
Jury instructions were not accurate
Court rules, rules of civil procedure, or rules of evidence were not followed correctly
A ruling on an objection was in error
Evidence was not admitted appropriately
An expert witness was not qualified
According to the Court Statistics Project, out of 850 medical malpractice trials surveyed, only 12 percent of plaintiffs appealed their case after losing at the trial level. Only a fraction of these cases were successfully reversed.
Should I Seek a New Medical Malpractice Trial Instead?
Generally, you will not be able to seek a new medical malpractice case based on the same set of facts. The judicial system wants to provide certainty at the end of a case, so if you are not satisfied with the result, simply starting again may not be possible. However, suppose there is a separate cause of action, a defendant who was not named during the original trial, or other extenuating circumstances that would allow for a new medical malpractice trial. In that case, an attorney can review the circumstances to determine if a new trial is a possible option. Likewise, if you can show that there was a reversible error made during the trial, you may be able to seek a new medical malpractice trial.
Why a Medical Malpractice Lawyer Is Essential
An experienced medical malpractice lawyer is familiar with all aspects of the medical malpractice lawsuit process, from making the initial claim to appealing the medical malpractice verdict. A lawyer can explain whether an appeal is in your best interest and what risks you undertake by appealing the decision.
Bertram & Murphy has more than 30 years of experience handling complex medical malpractice cases in D.C., Maryland, and Virginia. We use our unique insight into these cases to craft aggressive litigation strategies to pursue a positive outcome in your case that can withstand the challenge of an appeal.
Contact us today to get started with your free and confidential consultation.