How Shared Notes Will Change Medical Care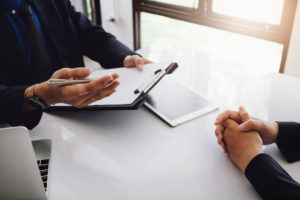 In a move that could protect Americans from the dangers of medical mistakes and malpractice, a new federal rule just took effect that will give patients better access to their complete health records.
The 21st Century Cures Act, signed into law in 2016, includes a provision that patients be able to access their electronic health information in a way that is "easy to understand, secure, and updated automatically."
Previously, patients faced roadblocks with reviewing clinicians' written notes regarding their treatment. Now, they will be able to visit their patient portals to see at least eight types of clinical notes that must be shared, including:
Consultation notes
Discharge summary notes
Medical history and physical information
Imaging narratives
Lab report narratives
Pathology report narratives
Procedure notes
Progress notes
The only two exceptions are psychotherapy notes or information compiled in "reasonable" anticipation of legal or administrative proceedings.
What is OpenNotes and How Does It Benefit Patients?
OpenNotes is a research agency that spearheaded the effort to improve patient access to medical records. Catherine DesRoches, executive director of the group, told the Washington Post that the biggest benefit of shared notes is improving the relationship between physicians and their patients.
According to the OpenNotes website, one survey showed that between 93 and 99 percent of patients across numerous subspecialties of medicine felt that the ability to review their notes would improve communication with their doctors. More than half of the responding physicians agreed that shared notes would foster a better sense of trust among patients.
Understanding Medical Records
According to the Post article, the importance of shared notes is already proven to have real-world benefits for patients. A 65-year-old man interviewed for the story reports that shared notes have helped him avoid making medication errors. Families can review notes to better understand what happens in appointments for older patients who suffer from dementia and other disorders, which can result in better decisions regarding their care.
Presenting medical records in simple language also helps patients who lack formal education and non-English speakers understand their health conditions and options.
In addition to empowering patients, shared notes can also help patients spot important medical errors — though they can still have trouble getting them corrected. A 2018 CNBC report interviewed a young woman whose medical record showed that she had been pregnant twice and had diabetes, neither of which was true.
How Shared Medical Records Could Impact Medical Malpractice Claims
Some errors in medical records can be harmless. But other documented medical mistakes can be deadly if they lead to a misdiagnosis, allergic reaction, or prescription error. In those cases, medical records can be key evidence when it comes to proving medical malpractice claims.
However, it's important to remember that electronic health records can still be tampered with. Bertram & Murphy is following the developments of a case in Kentucky where a woman claims that her breast cancer diagnosis was missed and then covered up by medical staff by the creation of false medical records. Because electronic health data is not above manipulation, it's critical to contact a medical malpractice lawyer if you think you've been the victim of medical negligence.
Contact Bertram & Murphy in D.C., Virginia, or Maryland Today
With more than 30 years of experience, our medical malpractice attorneys at Bertram & Murphy take a unique approach to these complex cases in D.C., Maryland, and Virginia. As former defense attorneys for health care providers, our medical malpractice lawyers have an insider's perspective on how medical providers treat patients and defend against medical malpractice claims. We use these invaluable insights to your benefit, crafting aggressive litigation strategies aimed at recovering maximum compensation.
When we get started, a D.C. medical negligence attorney from our firm will work quickly to assess the facts of your case and consult with a medical expert to determine the merit of the legal claim. We do this at no cost to you. If we believe you have a case, we will move forward immediately to demand the full and fair compensation you deserve.
Find more about how we can help today. Call or contact us now.