Medication Error Lawyer in DC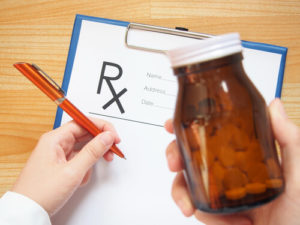 Washington D.C. Medication & Pharmacy Error Lawyer
When prescribed correctly and given as ordered, prescription medication is generally very safe. But even a minor medication error at the pharmacy could have serious and potentially fatal consequences.
Medication errors can be made in hospitals, emergency rooms, and urgent care centers in both how medications are ordered and given to the patient as well as what is prescribed and called into the pharmacy for the patient.
In today's electronic medical record system, there can also be computer entry errors related to medication orders and prescriptions that can cause harm or death.
Drug manufacturers also have a duty to manufacture and market safe medications, and pharmacists, doctors, nurses, and other medical professionals should ensure they're properly prescribed, dosed, and dispensed to patients. While mistakes happen, this doesn't excuse negligence.
You have a right to hold all responsible parties accountable if you have been injured by a careless medication error.
At Bertram & Murphy, we help victims of medication errors in Washington D.C., Maryland, and Virginia pursue the financial compensation they're entitled to. While compensation can't reverse any injuries you may have suffered, it can ensure you'll be able to afford the medical care you need and cover your lost wages, pain and suffering, and other losses.
To learn more about how our medication error lawyer in D.C. can help you, contact us to schedule a free consultation.
What We Offer Victims of Medication Errors in D.C.
For over 30 years, our attorneys have taken on cases involving medical food products and medication errors against manufacturers, hospitals, urgent care centers, and healthcare professionals, fighting in court to hold them accountable for their negligence and the injuries they cause.
Our lead trial attorney, Catherine D. Bertram, previously worked as Director of Risk Management at Georgetown University Hospital. While leading the hospital's Risk Management department, she gained valuable insight into the causes of pharmaceutical and medication errors, how errors occur in medication orders in medical records and how they can be prevented. She also knows the long-term challenges that victims face.
When you choose Bertram & Murphy to handle your claim, you can expect:
A free consultation where you can ask any question and address your concerns
A full case review by one of the nurses or doctors we keep on retainer
To be updated and kept abreast of developments throughout your case
A highly experienced legal team that will aggressively fight on your behalf
A custom legal strategy to maximize your potential financial compensation
Types of Medication Errors That Frequently Harm Patients
When it comes to medication error lawsuits in Washington, D.C., these are some of the most common mistakes we see:
Failure to prescribe the correct prescription
Failure to prescribe the correct dosage
Failure to timely administer the correct drug and dosage
Failure to give the correct drug to the correct patient
Failure to clearly communicate medication instructions
Failure to advise patients of all risks associated with the medication
Failure to avoid prescribing medications that produce adverse effects when taken together
Failure to take the patient's medical history
Drug manufacturer's failure to meet safety standards
Do you believe that one of these or other negligent medication errors caused you harm? If so, you may have a right to hold all responsible parties accountable and demand financial compensation.
Injuries from Negligent Medication Mistakes
Prescription medications have become part of our everyday life. When you reach for your daily medication, you expect it to improve your condition, not worsen your health in any way. Unfortunately, medication errors can cause long-term health consequences.
Common injuries from medication mistakes include:
Brain Damage – If a patient takes medications that poorly interact when used together, this can cause serious medical events, such as a heart attack, stroke, or shock. In these situations, brain damage often occurs due to oxygen deprivation.
Heart Attack or Stroke – Adverse effects from medication errors can cause patients to suffer from a heart attack or stroke, which may require long-term care. In many cases, heart attacks and strokes lead to a significantly reduced quality of life.
Development of Serious Conditions – If a patient takes their medication incorrectly due to poor communication from their doctor, this can cause serious conditions to develop over time. This can also occur if the patient is prescribed a dosage that is too high.
Development of Cancer – Medications that contain harmful substances due to manufacturer negligence can cause non-Hodgkin's lymphoma and other types of cancer.
Death – In worst-case scenarios, medication errors can result in wrongful death. This is common when patients receive doses that are too high or are prescribed medications that poorly interact when taken together.
Who Could Be Liable for a Medication Error in Washington, D.C.?
There are potentially multiple liable parties for medication error lawsuits. When determining fault, your attorney will consider several factors, such as:
Was the doctor who prescribed the medication responsible for the error?
Did a nurse or other medical professional make an error in administering the drug?
Was the medication error caused due to inadequate training or understaffing at a hospital or errors or bugs in the electronic medical records system?
Did the pharmacist fail to fill the prescription properly, leading to incorrect dosage or another mistake?
Did the medication cause harm due to a manufacturer's negligence?
At Bertram & Murphy, in Washington D.C. we have access to top medical experts in various fields, such as pharmacology, forensic medical records experts, hospital administration, and systems engineers. Our experts can review your case to determine which parties may have been negligent. This will allow you to pursue the full and fair compensation available against all liable parties, whether they're doctors, pharmacists, hospitals, drug manufacturers, or others.
Determining Compensation for Injuries from Medication Mistakes
In Washington, D.C., financial compensation for medical mistakes is designed to offset what you've lost due to negligence.
For instance, you can receive compensation for general damages, which is a legal term referring to non-economic losses. This includes:
Pain and suffering
Emotional distress
Loss of consortium or loss of companionship on behalf of a spouse
Your economic losses will also be taken into consideration. This includes:
Repeat visits to specialists
Assistive medical devices
Bills for hospitalizations and other medical care
Ambulance bills
Costs for future expected medical care
Lost wages and/or loss of earning capacity
Talk to Our Medical Malpractice Lawyers About Your Medication Error Case
When deciding to file a lawsuit, the first step is to contact a firm with a medication error lawyer. It's important to choose a lawyer who has experience litigating these complex cases.
At Bertram & Murphy, we've handled medication error lawsuits and other medical malpractice claims in the Washington, D.C. area for the past two decades. Our understanding legal team would be happy to guide you through the lawsuit process, explain your compensation options, and help you put your life back together in the aftermath of a medication error.
To learn more about how a medication error lawyer in D.C. can help you, contact us and schedule a free consultation.