Signs & Symptoms of Nursing Home Abuse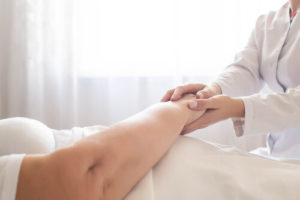 If you believe your family member or loved one is the victim of nursing home abuse or neglect, the experienced nursing home abuse attorneys at Bertram & Murphy. Located in Washington, D.C., our firm has assisted families in prosecuting nursing homes for abusing their residents. Nursing home abuse includes physical abuse, neglect, emotional abuse, intimidation, financial abuse, and sexual abuse.
Research has shown that elders who have experienced some type of abuse have a higher risk of death when compared to elders who have not experienced abuse. Elders who have been abused also have higher rates of physiological distress as well as additional health problems such as high blood pressure, digestive problems, and increased bone and joint problems.
Look For Physical Signs of Abuse in Nursing Homes
Common physical signs of nursing home abuse or neglect include:
Broken bones
Bedsores
Urinary tract infections
Unexplained bruises and scars
Unexplained falls
Unexplained weight loss
Dehydration
Being left dirty or in soiled bedding/clothing
Physical abuse or neglect can manifest in ways beyond pushing or hitting a resident. Overmedicating, use of restraints, and confining also constitute abuse of a nursing home resident. If the nursing home staff prevents or delays you access to a resident, this may also indicate abuse.
Emotional Indicators of Elder Abuse
If your family member or loved one has become withdrawn or exhibits a change in personality, this could indicate emotional or other abuse. Other indicators include:
Arguments or tension between the resident and staff
Resident isolation
Depression or anxiety
Dementia-mimicking behaviors (e,g., rocking back and forth or mumbling to oneself)
Yelling at, harassing, belittling, threatening or intimidating residents is illegal. Abuse is often silently suffered by residents; staying alert and informed of your loved one's mental health and behavior is important to uncover any possible abuse.
Stop the Abuse, Contact Our Washington D.C. Nursing Home Abuse Attorneys
Due to age, medical condition, or out of fear for retribution, nursing home abuse often goes unreported by residents.
If you see any of the above signs or indicators of abuse, it is important that you speak with a qualified and experienced nursing home abuse attorney. The attorneys at Bertram & Murphy are available to discuss your case at any time, including nights and weekends, to ensure that your loved one is protected from further abuse or neglect. Call 202-335-0185, or contact us online for a no-cost, confidential consultation.